METHOD ONE: Click the"Edit Song Details"icon on a song tile: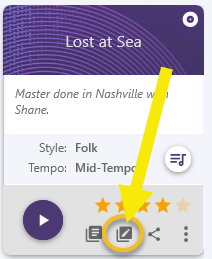 This opens a large window…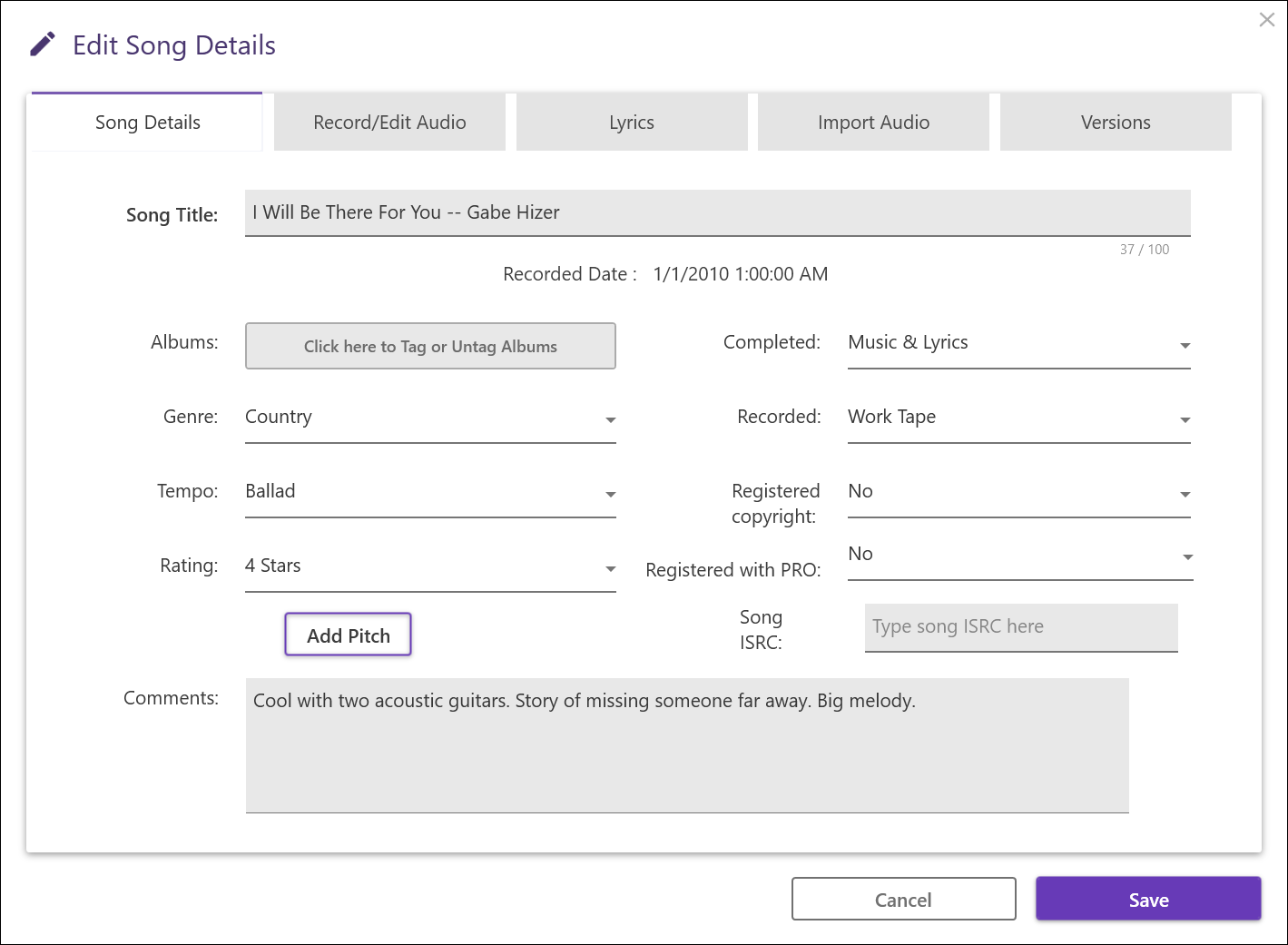 …that gives you the following options:
Song Title: Here you can enter a song title, if you have one. If not, the date and time the song was recorded will be displayed here. If you have a lot of songs with no mp3 metadata title, but the title is same as the name of the mp3 file, you can tick the box on the Import Songs page to use the mp3 file name as the Title of the song. (See "Adding an entire folder of songs," above.)
Comments: Adding comments is super-important, since it will help you find the song months or years from now, when you can't remember the name or if there are no lyrics, yet. For example, you might add the comment "Justin Beaver-type beat" or "super-moody minor melody" or "this would be great for Bob's new band" and so on. Our super-fast search feature will quickly locate the missing song months or years from when you recorded it.
Rating: Adding a star rating helps you separate the great from the not-quite-there-yet songs. No one writes nothing but hit songs every time they sit down! Going back every month or so to re-visit your works of art with an honest assessment—reflected in the star ratings—will help you to concentrate on those most worth working on. No use spending a lot of time on a 2-star song when you have 5-star songs that still need to be finished, first! Later, a quick sort for "unfinished 5-star songs" will pull up a bunch of songs you really need to work on first.
Genre: We start you off with 15 of the most common genres (e.g., rock, folk, blues, country, etc.). The Pro version allows you to add and delete genres (see below) to fit your particular styles of songwriting. Attaching a genre to your songs will help you narrow down a search for a particular type of song if you are pitching to an artist within a certain genre, etc.
Tempo: Is the song a ballad? Mid-tempo? Or Uptempo? This will also help you in your searches for particular types of songs to fit a certain situation.
Completed Status:
None = neither music nor lyrics is complete
Music = the music is complete but not the lyrics
Lyrics = the lyrics are complete but not the music
Yes = both lyrics and music are complete
Recording Status:
No = No demo recorded, yet
In-Progress = Demo started, but not yet finished (mixed, mastered)
Complete = Demo complete, ready to pitch or post online
Copyright Status:
Yes = Song has been registered with the Copyright Office
No = Not yet copyrighted
Registered with PRO
PRO: Performing Rights Organization (ASCAP, BMI, or SESAC)
Yes = Song has been registered with a PRO
No = Song not registered with a PRO